OUPFB Insect Sampling Field Course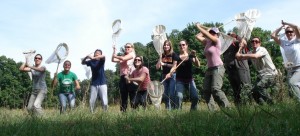 This 3 day field course is given at the end of August at the Queens University Biological Station on the Rideau Canal between Ottawa and Kingston. Over the past 5 years, I have taught this module, which is part of an Applied Wildlife Ecology field course offered by the University of Ottawa for the Ontario Universities Program in Field Biology.
For more information on the OUPFB courses see their page here.
Over the course of the 3 days, there is a small seminar on insect morphology and taxonomy before heading out to the fields to sample insects using a variety of active and passive trapping techniques in several types of terrestrial and aquatic habitats.
Our collection of insects is then brought into the lab for an identification exercise to make specialist entomologists of us all.
*N.B. due to budgetary constraints and course restructuring, I am not currently participating in this summer's course (2011).
Forum
Visit the discussion forum often to view questions, answers, exam details and other interesting info relating to courses. You'll need to register and login to participate.
Veuillez visiter le forum de discussion réguliérement pour voir des questions, des réponses, les détails pour examens ainsi que d'autres infos pertinentes aux cours. Il faut s'inscrire et connecter pour participer.