BIO 4009 Honours Thesis Project
Field Projects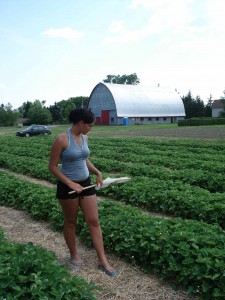 I also have some limited opportunities for projects on some aspect of the ecology of insect-plant interactions (pollination ecology, pest effects on fruit production, biodiversity sampling along different ecological gradients etc.). These field-based projects can be conducted in an urban environment, a rural natural habitat or the agricultural production of strawberries, blueberries or cranberries in particular (but don't hesitate to propose another fruiting crop system if you have any ideas of your own).
Please consult the final reports and posters for the field projects of my previous thesis students:
Caroline Robert (B.Sc. '08): Pollination Ecology of Strawberries final report found here and poster here (in French)
Vanessa Pilon (B.Sc. '10): Pollination Ecology of Blueberries final report here and poster here (in French; co-supervision Dr. Risa Sargent)
See the BIO4009 information page for more information.
Forum
Visit the discussion forum often to view questions, answers, exam details and other interesting info relating to courses. You'll need to register and login to participate.
Veuillez visiter le forum de discussion réguliérement pour voir des questions, des réponses, les détails pour examens ainsi que d'autres infos pertinentes aux cours. Il faut s'inscrire et connecter pour participer.