Dance show in London, UK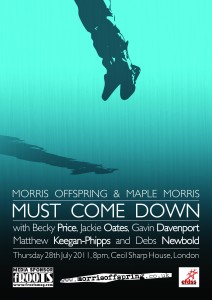 Maple Morris are traveling to the UK next week to put on a stage dance show with Morris Offspring at the Cecil Sharp House in London, followed by a week of performing at the Sidmouth Folk Festival in Devon.
Must Come Down
With Becky Price, Jackie Oates, Gavin Davenport, Matthew Keegan-Phipps and Debs Newbold
A joyful, energetic and unique celebration of the power and grace of English traditional dance. A reaffirmation that the tradition is alive and evolving. A exuberant spectacle of vitality and passionate dance wrapped in a cloak of beautiful music, stunning singing and heart-stopping stories.
Thursday, July 28 · 7:30pm – 10:30pm
Cecil Sharp House
2 Regent's Park Road
London, United Kingdom