BIO 1300 The Human Animal
Course description
The biology of the human species. The human species' place, and what it means to be, within the Kingdom Animalia. The human species' origin, evolution, basic anatomy, physiology, reproduction and sexuality. The biological basis of human families, cultures and societies will also be discussed.
Classes
Wednesday 10-1130 in SITE A0150
Friday 830-10 in MRT 205
Office Hours
Wednesday 1-2 pm in GNN 284
If this time does not suit your schedule, please email for an appointment and we'll set something up.
Communication
Occasionally, I will be required to contact you by email with some info about the course. Please note that it is your responsibility to check your uottawa email regularly and to respond within a reasonable delay. You may consult these regulations surrounding email contact at uOttawa here.
Evaluation
Midterm 1 (Friday Feb. 7th) = 25 or 35%
Midterm 2 (Friday Mar. 13th) = 25 or 35%
Final exam (TBD) = 40%
The practice version of midterm #2 is now available online here. Good luck in your studies!
Note policy for missed midterms: If you miss a midterm due to a medical emergency (only with valid medical certificate), there will be no make-up test. Instead there will be questions from that midterm's material incorporated into your final exam so that all students in the class will be tested on all the course material equally. If you miss a midterm, it is your responsibility to let me know of your absence within three (3) days of the test and to provide me with your medical note. Failure to follow these procedures precisely will result in a mark of zero (0) for the test.
Textbook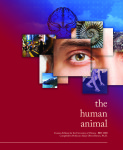 I have compiled a custom textbook for this course, put together with material from various textbooks on human evolution, anthropology, ecology, anatomy, psychology and environmental science. This book contains all of the relevant material to back-up your note-taking from the lectures as well as additional information to allow you to read more on topics that interest you. It is required reading for this course and is available at the uOttawa bookstore.
.
.
Topics
I will post a .pdf file of each lecture's notes in 2 formats (3 slides/page and 6 slides/page) in the 24hrs before each class. You should download the file and print out a copy to bring to class. The goal of providing these notes is to allow students some relief from note-taking and permitting them to listen to and to better integrate the lecture material. The slides notes are NOT complete, however, and students will be required read the textbook and to attend lectures in order to fill in the missing information. Usually, the information contained on the slides relates to higher levels of organization in the learning process (context and interpretation), as opposed to simply learning lists, names and examples.
Additionally, I will post Key Words of interest arising from the readings and the lectures. These are provided for you to allow you to familiarize yourself with the appropriate terminology of the field of Animal Behaviour and to provide you with a study guide for words that you should know how to define, explain and use in your lexicon while discussing these topics. These Key Words are the terms used when discussing the biology of Humans so you will want to start using them, as they will be a necessary part of a complete exam answer, for example. You may also use the lists of Key Words as items from which you may build concept maps that tie the various notions in the field together.
Testimonials
Please consult the following anonymous statements from past students of BIO1300 about this course and its prof:
This course has been my favourite course out of all! I find the material very interesting and I love learning about it. That you Professor Brown for great teaching and always keeping me engaged!!
Great course, enjoyed all the classes and the content! Thank you for a great year :)
Loved this class! Definitely my favourite I've taken so far! Thanks for a fun and very interesting course!
Thank you for the course! Taking this class really added to my semester and learning. Thoroughly enjoyed it all the way through :)
Awesome course (my favourite so far in the last 2 years actually). I learned a lot and had a lot of fun.
Interesting subject matter. Easily one of the best profs at Ottawa U. Would recommend and take another class with Dr. Brown if possible. Keep up the great teaching!
I really enjoyed the things we learned in this class. I learned so much and I enjoyed the way Prof. Brown taught it.
The course material was extremely interesting & always backed up by evidence. The professor always seemed to have a very good understanding of material taught. Great class & great prof!
I am in 3rd year and this is by far the most interesting course I have taken in my undergrad. Learning how and why humans evolved is very fascinating.
Teacher is excellent. Very professional, enthusiastic and speaks very well. He knows the subject matter very well.
Teacher is clear and makes content interesting. Would recommend classes with this prof. Awesome job!
The teacher was incredibly enthusiastic, charismatic and interesting. The material was presented very well with great examples :o)
Prof Brown is very good at explaining everything thoroughly and articulately and I'm never lost during the lectures, while normal with other classes I have a hard time paying attention. Very effective communicator.
Fantastic class!
Love the content, prof always engaged and interactive. Great prof & fun course
The prof is very knowledgeable about the subject matter & has stimulating teaching!Teacher suits the lass, very knowledgeable and makes everything easy to understand. Very interesting subject matter. I enjoyed everything we have learned so far. Overall great class.
Very interesting subjects, easy to pay attention, professor is fantastic! Prof Adam Brown is a great lecturer, knows his stuff. Exam are fair!!! My

favourite

course so far.
He was always enthusiastic. Very well spoken, approachable man. Course was super interesting.
One of the best lecturers I've ever had. I don't even see the time go by in class.
Very interesting, I have learned a lot. This is a great course for Arts/Social students who have an interest in science.
Prof. Brown is an excellent teacher, who conveys the learning material in an engaging manner. Definitely my favourite course this year!
Professor was excellent, made me excited to come to class and learn
Absolutely cannot say a single negative comment to Dr. Brown or his class. Probably one of my favourite professors. Always passionate during lectures, very kind & stimulating. I would love taking other classes with him :o) Keep doing exactly what you're doing!!
The way that Prof. Brown constructs the overall narrative of life on planet earth/evolution as a whole and uses it as a frame of reference from which to start the discussion of human biology/evolution is very effective. HIs style as a lecturer is engaging and he obviously knows what he's talking about.
By far one of my favourite courses of my 3yrs so far!
Great course! Lucky are the students who get the pleasure of having you as a prof next year for this course!
Thanks for a great course! Great way to finish off my undergrad, I really enjoyed it!!
Had a great semester. Awesome teacher, really enjoyed the class. Hopefully I have you for another class.
I had a really great time being in this class!
I loved this course. Easily the most interesting one I've taken in 2 years at university. Thanks for a great semester!
Great class. A little broad in the content which makes studying key words and learning quite difficult, but it is well worth trying. Every university should have a class that allows students to step outside of themselves and study humans and human nature in the context of what we are: animals! Thanks for sharing your knowledge.
Great class! Thanks for the awesome semester! Looking forward to possibly having you in the future!
Awesome course! I would definitely recommend it. Great prof!
Love the course! Recommend it for sure, very interesting and easy to understand. Thank you prof Brown :o)
Fantastic course. Extremely interesting and enjoyed learning about evolutionary origins of human traits and behaviours. Thanks Dr Brown for putting together a fantastic course, I will continue to read about evolution and human development thanks to this!
The most interesting course I have ever taken! Thank you.
Not enough time or space on paper to write all the amazing stuff I learned this semester. Brown FTW!
I enjoyed this course, thanks! :o)
You are a wonderful prof and I learned a lot in this course while enhoying each and every topic covered. Very interesting! These are topics you will remember forever. Please continue to teach this course so others can enjoy it. :o)
Prof did a super job at making the class enjoyable.
You make this class very interesting. I personally enjoy your rants. I feel like you know everything about everything and that makes this class even more fun!
This class is awesome and very interesting
I love this course! It gives me so many new things to share with people! I came from a catholic school where we were never allowed to learn about evolution so I've gained a ton of knowledge.
Course is very interesting, keep up the good work!
Super interesting course. Always loved biology, teaching is stimulating and I always love a lot of visuals on the slides
Awesome class – love that you make it really excited and simple even though you are an expert
I really enjoy this course. Thanks for teaching it J
Great professor. Always have liked professors who research into teaching more effectively
This is a super awesome course!
Great prof! Love the course, very interesting and I actually enjoyed studying for once J
Great course, super interesting
I really enjoy your class! You are my favourite prof this semester – thanks for making the material interesting
BEST course I have this semester!! Great job Prof Brown!
Professor is very knowledgeable in this field and creates a learning environment that is informative and interesting.
My favourite course! You & this class have inspired me to try to come back after this program for a science degree J
I like how the course is structured in a way that it addresses a lot of the social and cultural misconceptions of scientific phenomenons (sic). Very educational and interesting J
I just wanted to say again that your class is super interesting, and has really inspired my interest in human evolution. Thanks, and I look forward to the rest of your lectures.
Professor Brown is a great lecturer and I have much enjoyed the content since the last midterm!
Forum
Visit the discussion forum often to view questions, answers, exam details and other interesting info relating to courses. You'll need to register and login to participate.
Veuillez visiter le forum de discussion réguliérement pour voir des questions, des réponses, les détails pour examens ainsi que d'autres infos pertinentes aux cours. Il faut s'inscrire et connecter pour participer.